Copyright © Tie Tours 2000
---
Disadvantage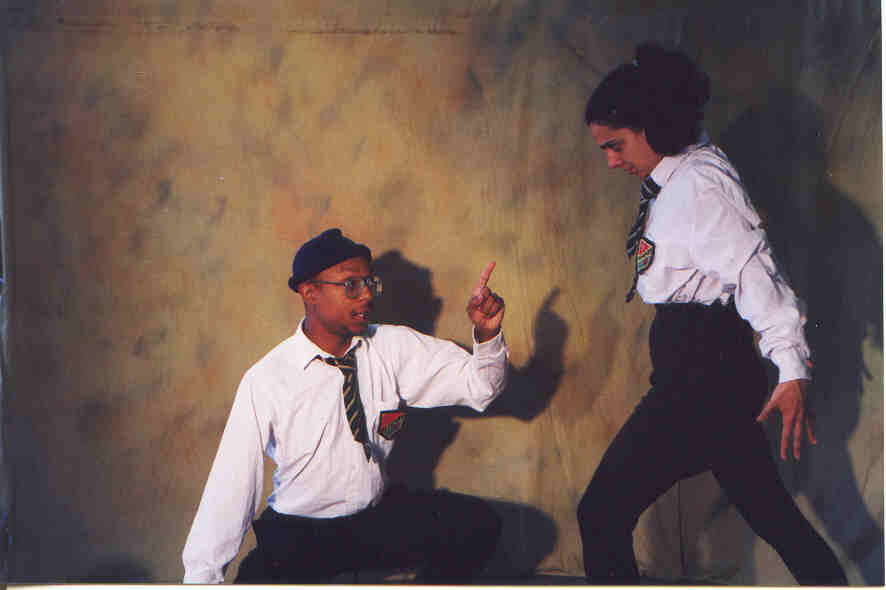 Gemma gets picked on at school and at home. How can she stop what is happening to her? Why does she get victimised? Follow Gemma's journey through reality and fantasy; searching for a stop to the terror. With a mixture of song, dance, rhythm, mime and storytelling we are confronted with some of her pain and anguish. Will Gary and Andrew get there way? Will Gemma be able to break out of her mental bonds? Will the old mans wisdom be of use? How will her trip to the jungle help?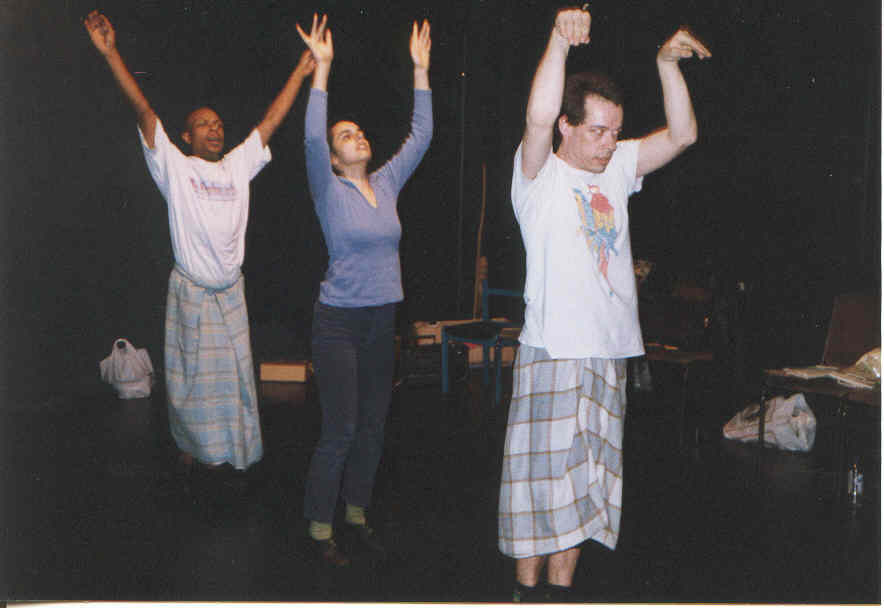 Written by Andy Hickson and Glenn Dallas, this show is specially suitable for primary school age children. Don't let them suffer in silence, get a show that deals with the issues from early on in life. This show also usea a variety of languages including Malay and Temiar, as well as English.
...one day as Babork-rayaak sung the sweet melody of the Crane fly, a stranger came up to her and said... Datok! Sila tolong saya?
---
What have people said about Disadvantage:

"Thought provoking... challenging... entertaining and highly enjoyable" - Celestine Keise, Islington Inspector for Equal Opportunities
"Stimulating... effective... a vital contribution to any social education curriculum" - Joel Stewart, Camden Youth Arts Coordinator
"Thank you! thank you! thank you! What an exhilarating, educational and entertaining performance" - Dani Rose, Head of Drama, Tom Hood School

"A lively, energetic and thought provoking performance... it was great how everyone got involved in the workshop" - Teacher, Mallory School
"Explosive, effective, thought provoking, amusing and artistic. It captivated me, thank you" - Mark Churchfield School
"Excellent show... I particularly liked the energy and commitment of the group leader to the subject and his ability to respond to the students... a nice balance of show and workshop" - Observer Spare Tyre Theatre Co.

"Disadvantage shows that bullying can happen to anyone, thank you for helping me to overcome my fears" - Harry, Student at Lewisham Primary School
---
---
Return to home page.