Copyright © Tie Tours 2000
---
Silent Scream Two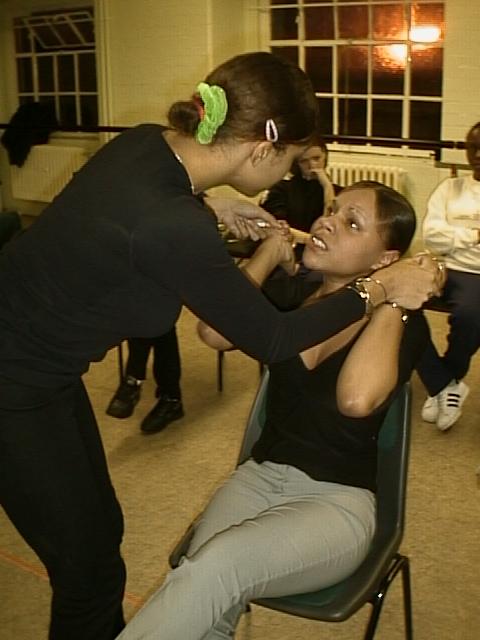 A one-person play, with live percussion, exploring the horrors of bullying and victimisation. Teri gets it from all sides. How can she stop the beatings from the school bully? Why does Teri get picked on? Follow her jouney through reality and fantasy searching for a stop to the terror. With a mixture of rap and soul songs, martial arts, dance, drumming, mime and story-telling we are confronted with some of her pain and anguish.
Written by Andy Hickson, this play does not preach or condescend, it is hard hitting, realistic and tells it as it is.
Well, looka' here, we've bumped into Teri, the four-eyed twat who thinks she can sing. Why arn't you in school Teri? Has your daddy made you walk all by yourself? Are you in trouble again Teri? What will your teacher say Teri , ay, ay ?
---
What have people said about Silent Scream Two:

"Thank you so much for the show, it was so successful that the children have carried the theme forward and developed their own shows. We look forward to another stimulating perfromance from you." - Maria Ghile, project Co-ordinator, Ethiopean/Eritrean Support Group.

"Tie Tours are a well organized, helpful and dynamic team. The students are still buzzing from your show. Many Thanks." - Jane Daly, Haringey Teacher

"I write to express my appreciation for your extraordinary energy and theatrical skills. I was enraptured throughout the performance and felt that you brought to life the issues involved. Brilliant!" - Marlies Puenter, Professional Supervisor

"I would like to comment on the high standards of professionalism of Tie Tours, a company that not only enriches pupils'cultural experiences, but also addresses serious issues." - Celsetine Keise, Advisor for Social Inclusion, Islington Council

"I am impressed with the high standard of Tie Tours work and am pleased to recommend them" - John Hudson, Headteacher, Holloway School.

"Staff here have been unanimous in their praise of your work, we look forward to future events." - Jim Delaney, Learning Enrichment Projects, Lewisham College.
---
How to book Silent Scream Two.
View photos of Silent Scream Two.
---
Return to home page.